THIS POST MAY CONTAIN AFFILIATE LINKS. THIS MEANS THAT, AT NO ADDITIONAL COST TO YOU, I MAY EARN A SMALL COMMISSION IF YOU CLICK THROUGH AND MAKE A PURCHASE. PLEASE READ MY FULL DISCLOSURE HERE.
20 Poo-

tastic

Gifts for Your Friends Who Love Toilet Humor
We all have that one friend or family member who just loves their toilet humor. Here are 20 of the Best Poo-Tastic Gifts for Your Friends Who Love Toilet Humor!
Related Posts:
The ultimate gift gag for the potty texter! You know the ones… those who take forever in the toilet because they're on their phones!
Okay – not only is the Potty Texter a top gag gift, but it's also actually very handy. The stand securely holds your smartphone in place and can be adjusted so your screen is vertical for texting, updating social media, and taking a toilet selfie, or horizontal for watching movies on your cell phone. And as can be expected, it is collapsible for easy travel!
BUY IT NOW FROM AMAZON
You gotta love this! It's so perfect! It's the perfect alternative to the usual box of chocolates. This is, without a doubt, the best-tasting poo you will ever try. Get it with free shipping via Prime.
This miniature standing sign stands at 25 x 12 cm. It features one side that reads "Caution deeply satisfying poo in process", while the other side reads "Give it 10 minutes" – LOL!!! Love it! Need I say more?
Do you know someone who takes forever on the throne? This coloring book has 111 pages and will no doubt keep their royal majesty entertained!
Don't forget the crayons! These ones are scented, making the gift gag even funnier!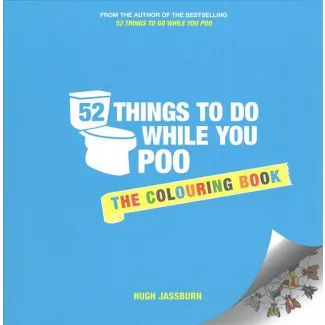 It's called toilet humor… so you might as well bring it into the toilet! This toilet plunger is shaped like the poo emoji and has a swirling design to really – hmmm… get the dirty all clean! A must-have gift gag for your best friend.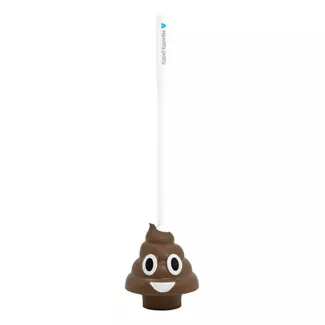 Why waste time staring at the floor (or the door) when it could be spent thinking deep philosophical thoughts? To Poo or Not To Poo is a reflective and entertaining book that is littered (see what I did there?) with fun facts.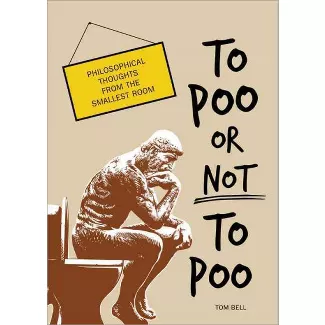 Let's not forget the original masters of toilet humor – our kids! This hardcover book delves into the strangest facts about poo. Suitable for 7-9 year-olds, not only will this book entertain, but it will also teach them about science and biology. Talk about hitting two birds with one stone!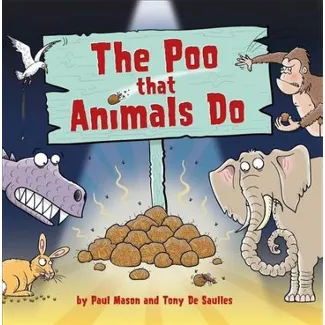 Another gag book that is perfect for kids (and adults)!
"The queen's weasel was picking berries from his favorite bush when a powerful moonbeam caught the weasel in its rays. Before the queen could act, her pet had vanished along with the beam of light." Find out what happens to Mrs. Falander Pander Poo and her friends here.
Ah, coffee… the ultimate laxative!! Do you have that one friend or family member who deals it all the time? You know – he who smelt it, dealt it? This funny mug is a classic functional gag gift. It's dishwasher and microwave safe too!
BUY IT NOW ON AMAZON
Totally reusable, this decal sticker can be used to decorate your laptop, walls, window, or whatever you please. Each pack contains 1 decal, which is measured at 8 x 11 x 0.1 inches. It is tear and residue resistant, so you can use and reuse it as much as you like.
This set contains 2 x 2 oz. bottles of Trap-a-Crap and Royal Flush, good for up to 100 uses – winner! Made by Poo-Pourri, it contains natural essential oils that create a barrier to bathroom smells. Get your Master Crapsman his this gift gag this Christmas.
Also made by Poo-Pourri, this before-you-go toilet spray gift set includes 2 x 2 oz. bottles – Trap A Crap Smoky Woods.
This gift set contains 3 x bottles of Lavender Tush, Rosy Rump, and Citrus Booty Fragrance. It's not just a gag gift… it's one that works!
Pet Turd – Mr Turd
While not at all functional, this is a super fun gift gag perfect for both adults and kids.
This gift set contains:
1 x Mr. Turd (brown plastic emoji poop toy)
1 x Natural wood wool nest
1 x Mr. Turd custom travel box
Poo Costume
Because… why not? Use it for Halloween or any other dress up party – or yeah, if you just wanna have fun!
Related Posts:
Available in both adult and kids sizes, this poo costume is easy to clean and can be popped in the washing machine for a gentle cycle.
Perfect for use in the home, these plush slippers have anti-slip fabric soles.
This is a great little fidget spinner for little fidgety fingers! An awesome present for those who love fidget spinners… and poop!
Do I need to say more about this? Haha! I loooove it! This door sign is 10″×5″ inches in size and it's moisture-proof too 🙂
With black ink, the stamp impression area is 5/8″ in diameter. It gives you up a whopping 5,000 impressions per pad before you will need to re-ink again. One teacher even says she uses it as a bathroom stamp pass for her students – what a hoot!
Share this post with your friends ♥