THIS POST MAY CONTAIN AFFILIATE LINKS. THIS MEANS THAT, AT NO ADDITIONAL COST TO YOU, I MAY EARN A SMALL COMMISSION IF YOU CLICK THROUGH AND MAKE A PURCHASE. PLEASE READ MY FULL DISCLOSURE HERE.
Christmas Farmhouse Decorations
I adore the feel of a rustic farmhouse. There's something about it that I find very calming and of course, homely. And while I don't live in the country, we have chosen to live in the suburbs not far from the countryside. Loving the farmhouse feel doesn't mean that I'd be awesome living in a lifestyle block – no. Haha – I just had an image of myself on a farm… I wouldn't be very productive. For one thing, I've got too many allergies. I already have to take daily doses of antihistamines. Goodness knows how more I'd need to keep my allergies at bay.
So that leaves me with the fun choice of decorating accordingly. For the holiday season, I've decided on Christmas Farmhouse Decorations. Weee!! The best part? It's all available at Target!! Love it!
Oh – and just in case you are looking for a tree, you can get 20% off from Target here 🙂
BONUS: Get Your Free Christmas Holiday Planner 2018 HERE
Related Posts:
Modern Farmhouse Holiday Dining Room Collection
Target has an awesome, awesome Farmhouse Holiday Dining Room Collection that I absolutely love! They've got everything you need for a beautiful table setting.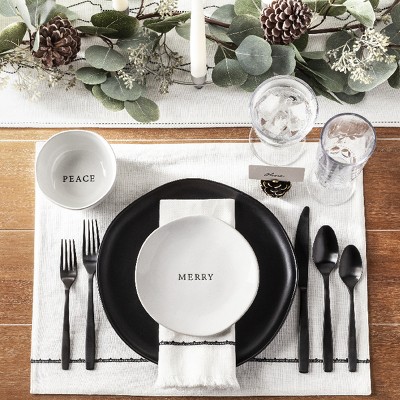 Shop this set:
Flatware Set 5pc

– This set includes 5 utensils for 1. It is dishwasher-safe and is made of stainless steel with a beautiful matte black finish.

Glass Goblets

– This set includes 4 x clear, tall goblets. The goblets each hold up to 9oz of your chosen beverage and is dishwasher-safe.

Placemats

– Available in sets of 2, these mats are made of a linen-cotton blend that makes it easy to clean and wash in your washing machine.
Stoneware Dinner Plate– Available in neutral colors, cream, black, or green, you choose according to your preference to create a look that suits you.
Stoneware Appetizer Plates – A set of 4, constructed from classic, glazed stoneware. Each plate features a different inspirational word, including "Gather, Peace, Merry, and Joy". These plates are both dishwasher and microwave safe.
Placecard Holders Pinecone
I love these Pinecone-shaped place card holders. Made of metal, it allows you to create a warm, natural look at any home gathering. It has gold detailing which adds just the right combination of classing farmhouse and modern living.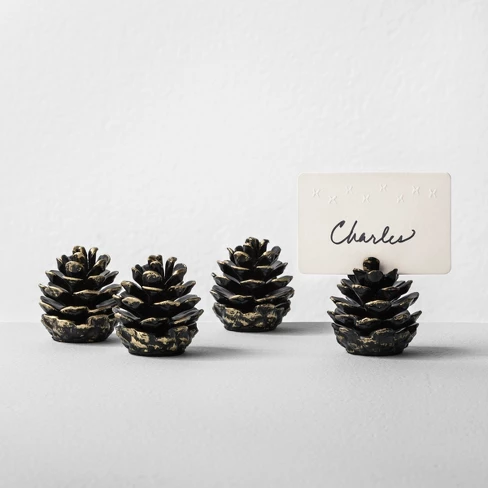 BUY THESE PINECONE PLACEHOLDERS AT TARGET
Eucalyptus & Pinecone Garland
Measuring 72 inches (H) x 3 inches (W), you can use this garland to drape from your mantle or lay it across the center of your dining table to finish the festive farmhouse look and feel.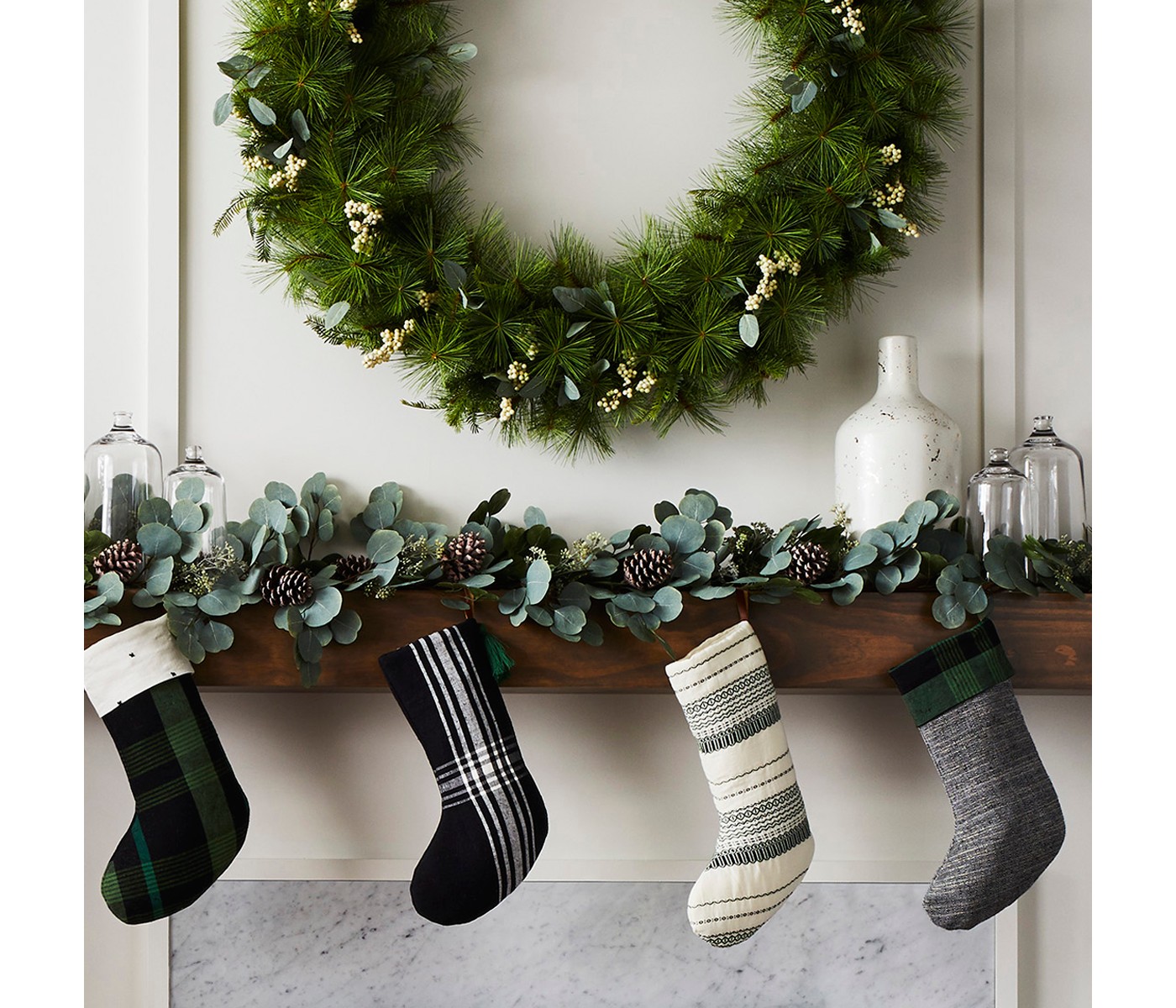 Wood Standing Sign – Peace, Joy, & Love
This character holiday decoration is made of wood and features "peace, joy & love" calligraphy. It stands at 21 inches (H) x 14 inches (W) x 3 inches (D) and does not require any assembly. Display it on your buffet table or at the entrance of your home. It is part of the Birchwood Bay Collection, which you can view here.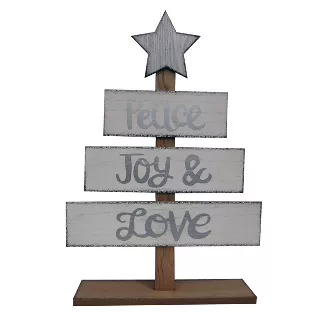 There's Something About Plaid
The Modern Farmhouse Living Room Collection pieces highlight the beauty of simplicity.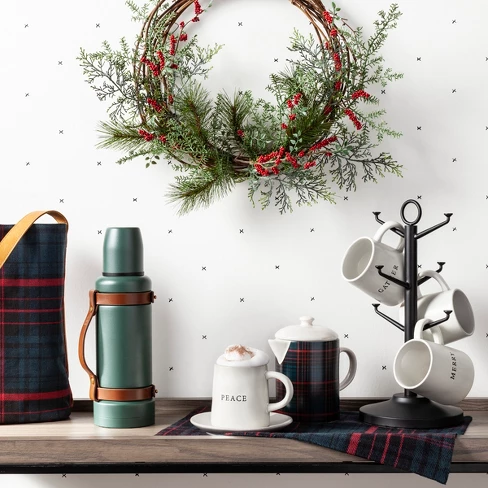 Christmas Farmhouse Accessories
Ornament Set of 3 – Doll House / Barn / Farm House
This set of 3 house-themed wooden ornaments adds rustic charm to your holiday decor. The ornaments can be used to adorn your Farmhouse Christmas Tree or simply displayed on tabletops around your living space. You can opt to get the whole kit
BUY THESE ORNAMENTS FROM TARGET
Mailbox Letters to Santa
Super cute! Get your kids to get their wish lists and letters to Santa ready befor Christmas Eve. Made of smooth metal, this mailbox stands at 13 inches (H) x 5.3 inches (W) x 10 inches (D). It has "Letters to Santa" stamped onto the front panel, and is finished with a classic slat on the top so your kiddies can slip their letters in.
BUY THIS SANTA MAILBOX FROM TARGET
Accent Rug
Measuring at 45.0 inches (L) x 45.0 inches (W), this accent rug is made of wool and canvas. Light blue in color, it has little white snowflakes. It will look great whether outside your front door, right inside your entryway, or even by the Chirstmas tree.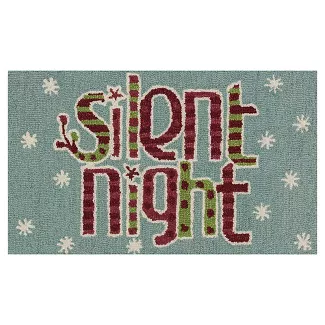 BUY THIS ACCENT RUG FROM TARGET
Looking for a

Christmas

Tree?
Get 20% off Christmas Trees from Target here.
Is Christmas Season Stressing You Out?
Without a doubt, the stresses of the holidays can trigger stress, anxiety, and even depression. Don't let this happen to you! It's important to take the necessary steps in self-care to protect yourself so that you can enjoy the holiday season with your friends and family ♥ Don't let it beat you! Check out these 12 Tips You Need to Know To Keep Your Sanity During the Holidays.
Share this post with your friends ♥